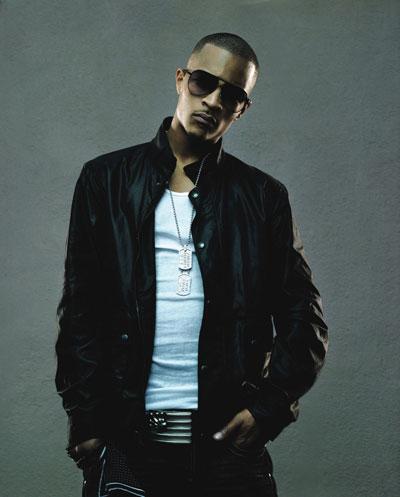 Rapper T.I. entered an Arkansas federal prison Tuesday to begin a year-and-a-day sentence on a weapons charge.

T.I., whose real name is Clifford J. Harris Jr., still made a concert-like entrance to the Forrest City low-security prison — likely showing up 29 minutes late inside of a black conversion van with tinted windows. T.I was to report at 1 p.m., but the deadline passed as guards outside blocked reporters and onlookers from coming near the facility on a rural state highway.

It was not immediately clear if T.I.'s late arrival would affect his plea deal with prosecutors.

Federal prison spokeswoman Linda Thomas said T.I. had been processed through the prison's intake system but couldn't offer a specific time. Thomas said the Atlantan would be known inside as federal prison inmate No. 59458019.

Traci Billingsley, another prison spokesperson, said T.I.'s arrival would be handled no differently than any other and the prison had no special protection prepared for him. The low-security prison has double-bunked cells and a large fenced exercise yard, where inmates in white jumpsuits could be seen Tuesday morning.

"We treat all our offenders in the same manner," Billingsley said.

T.I., 28, was arrested after trying to buy unregistered machine guns and silencers from undercover federal agents in 2007. That came after the his best friend was killed following a post-performance party in Cincinnati in 2006. T.I. has said the bullets that killed his friend were meant for him.

The self-proclaimed "King of the South" had faced a maximum sentence of 10 years in prison and a $250,000 fine for each charge in his three-count indictment. However, he reached a plea deal with prosecutors after spending time on house arrest before his sentencing and for speaking to community groups and high schools about the dangers of drugs, violence and guns.

Fans gathered down the road from the prison screamed, "We love you, T.I.!" when the black van pulled up at the prison. Afterward, they shouted at television cameras that "T.I. is the greatest!"

"We're still riding with the king!" yelled Porshe Tiswell, 22, of Forrest City.

Fan Eugene Smith, 24, of Forrest City defended T.I., saying he feared for his life when he purchased the machine guns and silencers from federal agents.

"Somebody set him up, they snitched on him, so it's a whole different thing," Smith said. "We got to live a life, you know what I'm saying. We're out in the street life."

Upon his release, T.I. will be on probation for three years. He also must pay a $100,000 fine.