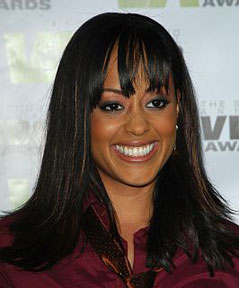 Actress Essence Atkins, best known for her role on the UPN sitcom "Half and Half," has married her boyfriend Jaime Mendez after meeting him less than two years ago through an online dating site.

According to People.com, the wedding took place Saturday at the Ambassador Mansion and Gardens in Pasadena, Calif, The couple met on Valentine's Day of last year through Match.com.

"I wrote him a quick little note that I had read his profile, and then I signed off, Happy SAD Day – that's Single Awareness Day," says Essence, 37. A week later the couple went on their first date, and they were engaged a year later.

The bride wore a Stephen Yearick gown for the ceremony and an Angel Rivera dress for the reception, according to People. "I felt like a princess," she says.

Her former costar Valerie Pettiford performed original music at the reception. Plus, the bride surprised her husband with a salsa band to celebrate his Puerto Rican heritage.

"We've been taking salsa lessons. It's part of what we've been doing together as a couple," she says.

 TV One personality, chef G. Garvin, blended Puerto Rican and traditional soul food dishes, which included mac and cheese, roasted pork, peach cobbler and plantains.

 As party favors, guests received match books and travel-sized candles. But singles guests were given six-month memberships to Match.com.  source
I guess there may be something to this internet dating thing after all.  But am I the only one who think it's crazy that someone as beautiful as Ms. Atkins would have to go to an online dating site in order to find a man.  It really is hard out here for the single sista.  I don't care what you do for a living or how glamorous and beautiful you are times are tough and you have to be creative in order to find your "Prince Charming".