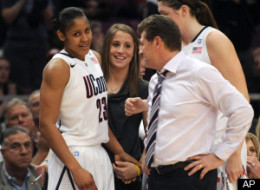 After win No. 88 in a row was in the books, Geno Auriemma finally let loose: He thinks some people are rooting against his record-setting players because of their gender.
"I just know there wouldn't be this many people in the room if we were chasing a woman's record," the Connecticut coach said Sunday near the end of his postgame news conference. "The reason everybody is having a heart attack the last four or five days is a bunch of women are threatening to break a men's record, and everybody is all up in arms about it."
Already with no equal in women's basketball, UConn won its 88th straight game Sunday to match the men's mark set by coach John Wooden and his UCLA teams from 1971-74. Tiffany Hayes scored 26 points and Maya Moore added 22 to help the top-ranked Huskies rout No. 11 Ohio State 81-50 in the Maggie Dixon Classic at Madison Square Garden.
"All the women are happy as hell and they can't wait to come in here and ask questions. All the guys that loved women's basketball are all excited, and all the miserable (people) that follow men's basketball and don't want us to break the record are all here because they are (ticked)," Auriemma said.
The no-nonsense Auriemma had downplayed the significance of the streak as his team closed in on UCLA, promising that once the run was over he would finally open up.
But the Hall of Fame coach, known to rub folks the wrong way at times, has never been afraid to say what's on his mind.
"Because we're breaking a men's record, we've got a lot of people paying attention," Auriemma said. "If we were breaking a women's record, everybody would go, 'Aren't those girls nice, let's give them two paragraphs in USA Today, you know, give them one line on the bottom of ESPN and then let's send them back where they belong, in the kitchen."
UConn already owned the longest winning streak in NCAA women's basketball history. Next up, the Huskies (10-0) can surpass the UCLA men Tuesday night at home against No. 15 Florida State.
Connecticut matched the Bruins' mark before a crowd of 15,232 – the second-biggest for a women's game at Madison Square Garden. With 40 seconds left, the fans rose and chanted "88! 88!"