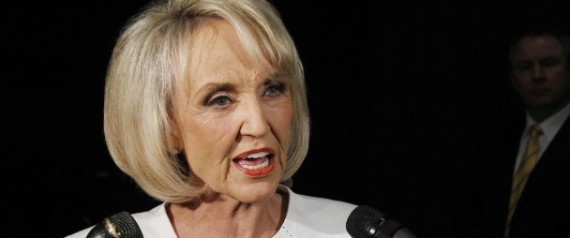 Okay Mississippi, looks like Arizona is giving you a reprieve for real this time.  Arizona was on the verge of whooping Mississippi for 'The Most Racist State' title (you know similar to how the Heat beat the 76er's last night), but Governor Jan Brewer (I can't believe I'm about to say this) stepped in and actual restored what appears to be some modicum of sanity to the great Republic of Arizona.  Let's see how long this last.
PHOENIX – Arizona Gov. Jan Brewer on Monday vetoed a bill that would have required President Barack Obama and other presidential candidates to prove their U.S. citizenship before their names could appear on the state's ballot.
The bill would have made Arizona the first state to pass such a requirement. Opponents had warned the bill would give another black eye to Arizona after last year's controversy over the state's illegal immigration enforcement law.
Brewer said in her veto letter that she was troubled that the bill empowered Arizona's secretary of state to judge the qualifications of all candidates when they file to run for office.
"I do not support designating one person as the gatekeeper to the ballot for a candidate, which could lead to arbitrary or politically motivated decisions," said Brewer, who was secretary of state until she became governor in 2009.
"In addition, I never imagined being presented with a bill that could require candidates for president of the greatest and most powerful nation on Earth to submit their 'early baptismal circumcision certificates' among other records to the Arizona secretary of state," she said. "This is a bridge too far."
The measure would have required that political parties and presidential candidates hand in affidavits stating a candidate's citizenship and age. It also would have required the candidate's birth certificate and a sworn statement saying where the candidate has lived for 14 years.
If candidates didn't have a copy of their birth certificates, they could meet the requirement by providing baptismal or circumcision certificates, hospital birth records and other documents.
If it couldn't be determined whether candidates who provided documents in place of their birth certificates were eligible to appear on the ballot, the secretary of state would have been able to set up a committee to help determine whether the requirements were met. The names of candidates could be kept off the ballot if the secretary of state didn't believe the candidates met the citizenship requirement.
The bill didn't explicitly provide an appeals process for a candidate whose name was kept off the ballot.
The bill's sponsor, Republican Rep. Carl Seel of Phoenix, said he was disappointed by the veto. It would have been reasonable to have the secretary of state — the state's top election officer — decide whether a candidate had adequately documented his or her qualifications, he said.
Because the bill would have required candidates for all offices to submit documentation of their qualifications, he said, "it would have been excellent reform."
Seel had said previously the measure wasn't intended as a swipe against the president and would have helped maintain the integrity of elections.