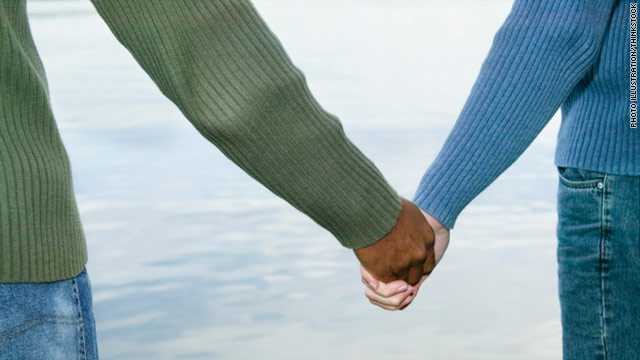 The number of new HIV infections in the United States has remained steady, at around 50,000 cases a year over the past four years, according to the Center for Disease Control and Prevention. The new data, published online Wednesday in the scientific journal PLoS ONE, show the largest increases were among bisexual men and men who have sex with men (MSM). Of that group, young, black men had what the agency called "alarming increases."
"More than 30 years into the HIV epidemic, about 50,000 people in this country still become infected each year," said CDC Director Dr. Thomas Frieden. "Not only do men who have sex with men continue to account for most new infections, young gay and bisexual men are the only group in which infections are increasing, and this increase is particularly concerning among young African American MSM."
The data look at the period between 2006 and 2009. It's the first time HIV incidence numbers were calculated using a lab test that distinguishes recent infections from existing infections. The CDC estimates that MSM make up 2% of the U.S. population but 61% of 2009's new infections. Young men between the ages of 13 and 29 who had sex with men had the highest new infection rate/increase - more than a quarter of all new cases. The agency says while young MSM of all ethnic backgrounds have been hit hard, young blacks were the only group to see significant increases over the four-year period. Infection rates among this population jumped 48% during that time.
The reasons, according to the CDC, aren't clear. It says individual risk behaviors alone do not account for the increase. It says black MSM tend to have fewer sexual partners, are less likely to do IV drugs and are no more likely to have anal intercourse than other gay men. But the data suggests a number of possibilities for these trends - that young black MSM often don't know their HIV status, that the stigma of HIV and homosexuality in the black community can often impede the use of prevention services and that often there is limited access to health care services like testing and treatment in the black community.We are deeply concerned by the alarming rise in new HIV infections in young, black gay and bisexual men and the continued impact of HIV among young gay and bisexual men of all races," said Dr. Jonathan Mermin, director of CDC's Division of HIV/AIDS Prevention. "We cannot allow the health of a new generation of gay men to be lost to a preventable disease. It's time to renew the focus on HIV among gay men and confront the homophobia and stigma that all too often accompany this disease."
It's not just African Americans who are disproportionately affected. The data suggest that communities of color are shouldering a heavier burden. In 2009, blacks made up 14% of the population but accounted for 44% of all new infections. Their infection rate was almost 8 times that of whites. The rate among black men was the highest of any group - more than six times that of white men. The infection rate among black women was 15 times higher than white women. Hispanics make up about 16% of the population, and 20% of new HIV infections. Their rate of infection is about three times that of whites.
Dr. Kevin Fenton, director of CDC's National Center for HIV/AIDS, Viral Hepatitis, STD and TB Prevention, says the data are encouraging in that the number of new infections has significantly dropped from the peak seen in the mid-1980s, however there is still much work ahead. "We have plateaued at an unacceptably high level. Without intensified HIV prevention efforts, we are likely to face an era of rising infection rates and higher health care costs for a preventable condition that already affects more than 1 million people in this country."
Phill Wilson, founder & chief executive officer of the Black AIDS Institute, whose mission is to stop the pandemic in black communities says we have the tools to end the epidemic, but prevention efforts have been stalled for some time.
"What these numbers tell us is we are not going to be successful in driving down new infections until and unless we invest in those populations most at risk, and in America today those populations are black Americans, men who have sex with men of all races and especially young, black men who have sex with men," Wilson said. "It is outrageous that over the last three years reported in this data, since 2006-2009, we see a 48% increase in new cases among young black men who have sex with men age 13-29. We have to build the infrastructure and the capacity in these communities to respond to this epidemic in an appropriate manner."
The agency says it's working on a number of interventions for hardest hit populations. Officials hope some of the latest new prevention strategies like pre-exposure prophylaxis (PrEP) - exposing high risk populations to HIV drugs to prevent infection in both MSM, and heterosexual men and women - will have a strong impact on infection rates. In July, new data from several studies found PrEP was safe and effective in preventing infection in these populations.