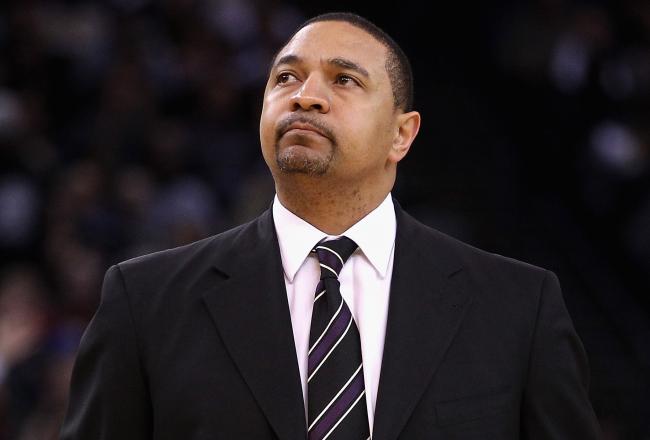 (HuffingtonPost) -- 
On Thursday, the
Smoking Gun broke the news
that Warriors coach Mark Jackson, who is also a minister, has been the victim of an extortion plot by his ex-stripper former mistress.
Earlier this week, the FBI arrested 28-year-old Alexis Adams and co-conspirator Marcus Shaw in connection with a scheme to blackmail the former NBA star out of hundreds of thousands of dollars by threatening to go public with the affair and release graphic photographs of his genitalia to "the vultures in the media."
According to a sworn affidavit by FBI agent Beth Alvarez, Jackson and Adams had an affair six years ago while she was working at a gentleman's club in New York and he was an announcer for the New Jersey Nets. The affair lasted less than 12 months, ending when Jackson, a father of four, refused to leave his wife of 16 years.
In April, Jackson was approached by a man he did not know at a hotel in Memphis. The man showed Jackson a folder with the compromising photographs and a CD he said contained voice mail messages Jackson had left for Adams during their relationship. The man told Jackson he had discovered the items in a storage locker that he had recently purchased. Jackson paid $5,000 for materials, which he immediately destroyed.
Later that month, someone using the name "Mark Smith" (and the email account tencommandment7@gmail.com) sent a message to Jackson's wife giving her the opportunity to buy the pictures or else they would be released to the media. Jackson responded himself and ultimately offered $200,000 to make the entire situation go away.
During this process, the extortion scheme was reported to the police, who traced the email account to Shaw through his IP address. Using a subpoena of Shaw's phone and text message records, authorities were able to determine Adams was also personally involved in the extortion plot.
Both Adams and Shaw have since been arrested.
Shaw was convicted of aggravated robbery in 1996 and then arrested in 2005 for murder, robbery, aggravated assault and kidnapping, although those charges were later dismissed.
"I recognize the extremely poor judgment that I used both in having an affair six years ago--including the embarrassing communication I exhibited during that time--and in attempting to deal with the extortion scheme at first by myself," Jackson said in a statement."I made some egregious errors. I apologize for any embarrassment I may have caused my family, friends and, of course, the Warriors."
"Although not condoning his previous actions that led to the extortion attempt, the Warriors fully support Coach Jackson during this time and thank law enforcement authorities and the FBI for their prompt assistance in helping Coach Jackson and his family," the Warriors said in their own statement.