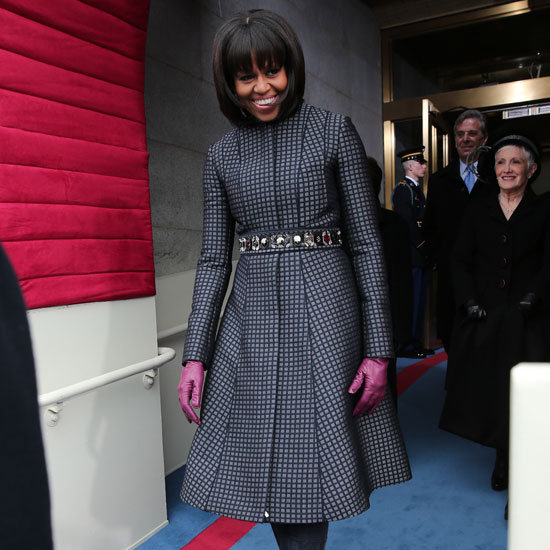 Currently I am taking a break from all of the inauguration coverage. It is indeed a great day but I cannot digest all of the analysis. Just before I changed channels, I saw the First Lady grab the President's arm, while in the parade viewing stand, making him pump his fist in the air I assume at whatever parade act was passing by them at the time. The President laughed and then leaned in and kissed her on the forehead. She was all smiles.
Tamron Hall
noted in her reporting of the motorcade down Pennsylvania Avenue returning back to the White House that the First Lady had a little spring in her step. To a point that the Secret Service had to make sure she was alright.
Everyone is all abuzz about her new haircut. She got BANGS! It looks good on her. Wish I had her hairstylist. I had been considering getting bangs again. I get them every couple of years when I just need to change up a little bit. But I was hesitant this time. As soon as I saw Mrs. Obama with her new do, I went ahead and did it. I wonder how many other women, black women, especially will start sporting bangs now. We shall see. In any case, pundits and political observers are contemplating what statement her new look is making. I do not know that her new hairstyle is some calculated move or just a change of pace like most women want from time to time. Just for kicks though I will say that it is calculated. It is a fun style and rather bold for the wife of a president. She really is breaking the mold. (I wonder what news a new hairstyle of Ann Romney would have generated...I'm just sayin'). But what is it about the timing of this bold, new, sassy look? She debuted the look on her 49th birthday which was just prior to the start of her husband's second term..
After her husband gave his re-election victory speech and she joined him on stage, I noticed her exuberance, her excitement...she was pretty hyped. I clearly remember mentally taking note of her enthusiasm. Undoubtedly, winning a second time is much sweeter than the first. Undoubtedly, they received a major confidence boost from the reelection. It was an interesting observation for me. She always came across as genuine and sincere in her efforts. Unlike the reluctant spouse that many have tried to peg her as. While on the topic of reluctance, I just want to defend Michelle Obama for a second. What average person gets excited about entering politics? Politics are brutal. If my husband came to me and said he wanted to do something damn near impossible and become the President of the United States...reluctant isn't even the word. Not only become POTUS, but make history as the first African American President and all that becoming President involves...reluctant is not even the word! How about
it ain't happening
? Mrs. Obama had reservations as would anyone. However, I posit to you that somewhere in the process, she came to want this just as much as her husband. Based on my latest observations, I would say she may have wanted the second term even more than he did. I do not know what is percolating over in the East Wing of the White House but I am eager to find out. Her enthusiasm is infectious and I am happy to see it. I hope others note it as well and dispel yet another "angry/bitter black woman" myth. But if they don't, their inaccurate perceptions have not stopped her before and will not stop her now. Go 'head First Lady! Go 'head!