Father's Day 2013 is two days away and naturally there are conversations and articles written about fathers. Conversations and articles that go beyond "gifts for dad." I think these discussions are worthwhile and long overdue. In American culture and the world for that matter, men have the upper hand and a lot of efforts have been made to lift up women. These efforts are justifiable; it's just that to me sometimes the conversations have completely alienated men as if they really do not matter. At the same time, many of the provisions made for women have benefitted men. Fatherhood has been esteemed more as of late. I watched a segment this morning on the
Today Show
about more and more companies giving paid paternity leave for fathers similar to maternity leave for mothers. NBC also created a show starring Anthony Anderson called
Guys with Kids
. We are hearing more and more about men becoming stay-at-home dads or becoming the sole custodial parent as a single father. These conversations are also highlighting more men sharing the responsibilities at home and becoming more active parents.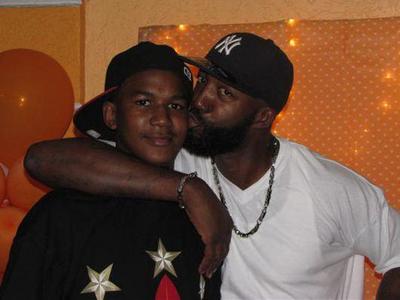 In the black community there has been a longstanding conversation about fatherhood, particularly absent fathers.
Oprah hosted a show recently about fatherless sons and in three days will tape a show about fatherless daughters
. The conversation about black fathers is now indeed a national conversation. It seems to me that the black community lags behind in every statistic out there. According to the
Kids Count Data Center of the Annie E. Casey Foundation in Baltimore
in 2011, 67% of black children lived in single parent homes as opposed to 25% of white children. Of course there is a small percentage of those single parents that are single fathers, but I think it is safe to assume that the vast majority of those households are headed by single mothers. I will not take for granted though that the entire 67% are without an active father. At the same time, based on the conversations that we are having, we know that there is a very significant portion of these children that are indeed fatherless. Our current president, the first black president, grew up without his father. If you were to imagine the pedigree of any president, it would include being raised in a two-parent home. For a black man to become President of the United States, it would be easy to think that his background was picture perfect in order to garner enough votes to win the presidency. But as we all know the problem is so widespread in our community that the man who would become president did not escape it. More and more adult children are opening up about the pain stemming from fatherlessness. On Twitter,
Dr. Steve Perry who once gave voice to fatherless children on Twitter
, recently spoke of the emotions that overtook him in the card section of Walmart.
The pain is very real. I will never say that it is not. At the same time, I would like to focus on those men who are very active in their children's' lives. I know my personal observations cannot be generalized to the entire black community, but I believe that there will be an improvement in the data in the next few years. I am noticing more men in my generation taking fatherhood seriously, those that are married to their children's mother and those that are not. It makes me smile to read through my Facebook and Twitter feeds where fathers dote on their children. I love to see the pictures these proud fathers post. I was pleasantly surprised when my niece told me that her dad (my brother) helps her blow dry her thick hair. She turned to him because her mom was a bit heavy handed. Many men are deciding to break the cycle of fatherlessness. They do not fall prey to the excuse of not having a father. They are bound and determined to be the fathers that their fathers were not.
One notable father is Tracy Martin, the father of Trayvon Martin. I included their above picture because I think it well articulates what fathers feel towards their children. He is an active father and he is still fulfilling his fatherly duties seeking justice for his son. One fact that I observed with the high profile deaths of Trayvon Martin, Jordan Davis, and Hadiya Pendleton was that their fathers were right there alongside their mothers grieving. They are active fathers doing all of the right things and standing in solidarity with their children even in death. We tend to imagine only the grieving mothers, but the fathers of these slain children are grieving as well. These fathers are unsung heroes.
In fact, fathers have long been unsung heroes. It can be a thankless job. I, for one, would like to celebrate them. Here are a couple of video clips portraying fathers in a positive light. I post them to remind us that they are out there and indeed present and active in our community.
This last picture is one of my all-time favorite pictures of the now elder men of my family. Of course, they were much younger when this picture was taken. In this pic, are my grandfather and his six sons and son-in-law, (one of which is my dad, lower left). Together they are fathers to 36 children who love and respect them very much. We love them because they love us. HAPPY FATHER'S DAY to all fathers and father figures.
PS. If anyone can find the video of the old Tide commercial with the song "Take Me Home" and man in the white t-shirt sleep with a baby on his chest, please share.